EOT Crane : How to Make Sure Your Crane is Safe and Secure During Operations
Cranes are essential machines, commonly used to shift materials, pieces of equipment and heavy construction work, as well as lifting heavy objects. In the manufacturing industry, these are also used to transport material or equipment from one place to another place within a fixed distance.
Depending upon the type of industry and its usage there are different types of cranes to perform specific operations. In this blog, you will learn about EOT cranes and how to make sure the EOT (Electric Overhead Travelling) crane is safe and secure during operations.
What are EOT Cranes?
Before we head toward the safety and security part of EOT cranes during operation, it's essential to have an idea about what EOT cranes are.
Electric overhead travelling (EOT) cranes are a type of overhead crane that operate on electricity. They are also known as bridge cranes. These cranes require an operator/ pendant station to handle the functions of the crane.
The EOT cranes consist of a hoist rope, wire ropes or chains, and parallel runways with a travelling bridge spanning the gap. They are broadly classified into:
Single girder EOT crane
Double girder EOT crane
Learn more about the EOT Cranes and their types along with the specification.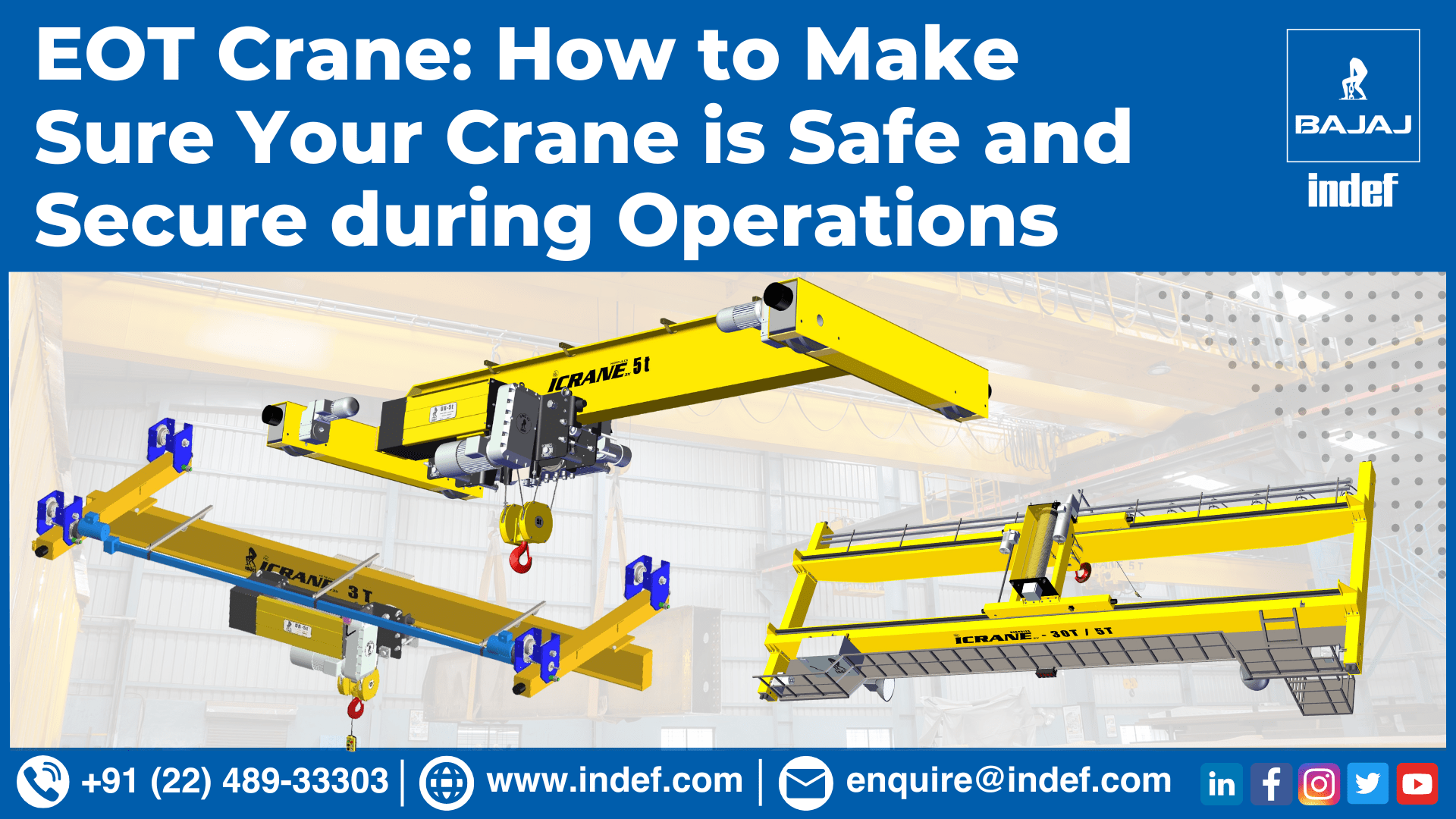 How to Make Sure the EOT Crane is Safe and Secure During Operation?
Electric overhead travelling cranes are widely used in mines, manufacturing units, building sites, workshops, and warehouses for unloading or relocating heavy loads that require maximum human effort. The EOT cranes are also equipped with mechanical means that help travel in both directions and can also lift or lower the heavy load effortlessly.
Safety and Security Measures:
To operate either a single-girder EOT crane or a double-girder EOT crane, one must know about the various types of mishaps and casualties. As most crane operations are very confined and close to the public, leading to crane accidents that are not only hazardous to workers in the industry, but also to pedestrians. Commonly crane accidents are the result of the:
Direct contact with a power source, leading to bodily harm to the operator.
Overloading of the crane leads to irreparable harm to the operator and even to other onsite personnel.
Machine failure also leads to major crane accidents.
Such accidents are a result of:
Insufficient preventive safety measures
Inadequate onsite operator training
The listed safety tips and instructions will help you avoid any type of hazards and offer safe operation of the crane.
While operating the EOT Crane:
Have a prior check on the different parts of the crane. Check for any type of damage and, if found damaged avoid using the crane.
Schedule a routine inspection to check the smooth motion of different parts of the crane before the operation starts.
Know the load handling capacity of the crane. Avoid operating at any loads that are more than the specified safe working load capacity.
Cross-check the hoist brakes. If there is any type of incapability while holding or transmitting the load, avoid operating and notify this to be repaired.
Fix any loose components, parts, or accessories before lifting the load.
Stop the crane fully once the operation is completed. This implies switching off all the controls and removing the hanging load.
People around the operating range must be aware, and cautious and should take proper safety measures to avoid any type of mishap.
Read about the Various High-Quality EOT Cranes From INDEF.
Some Other Essential Safety Tips While Operating the EOT Crane
The operator as well as the people nearby the working area of the crane should maintain the necessary distance from the crane. This would help avoid the chances of any type of accident.
Site workers, technicians and operators must be well acknowledged with the emergency procedure.
The path of the load should be clear to avoid any hindrances.
There should be a minimum swing in the hoist to move the load smoothly.
To Summarise:
Over the last 60 years, Bajaj Indef has pioneered the designing and manufacturing of world-class products using local elements. We at Bajaj Indef offer a wide variety of EOT cranes including Single Girder EOT, Double Girder EOT and Underslung EOT cranes. Our cranes are supplied in India as well as internationally. In addition to product delivery, we also assist over calls and provide in-person training.
Our cranes are designed in a way to offers a high level of customisation. Also, our flame-proof cranes can work in hazardous conditions as well. To know more about our cranes and hoists you can write to us at- enquire@indef.com or even call us on +91 (22) 489-33303.