Top 10 Things to Consider Before Purchasing a Crane for Maximum Output
Cranes are commonly used to lift heavy things or transport entities from one place to another for a specified distance. These are applied in different industries, ranging from manufacturing, construction, and shipbuilding to material loading and handling.
Although, with the advancements in technology, there are different types of cranes available today to perform specific functions. However, for the success of any particular project, the right choice of crane is necessary. There are a few questions that you commonly look for before buying a crane:
How do I choose an appropriate crane?
What are the factors to be considered before choosing the crane?
Which is the most stable crane for my requirements?
What crane checklist do I need to look for?
This blog will go over the most important things to consider before purchasing a crane. But before buying, you should have an idea of the different types of cranes available. Various checklists are discussed below.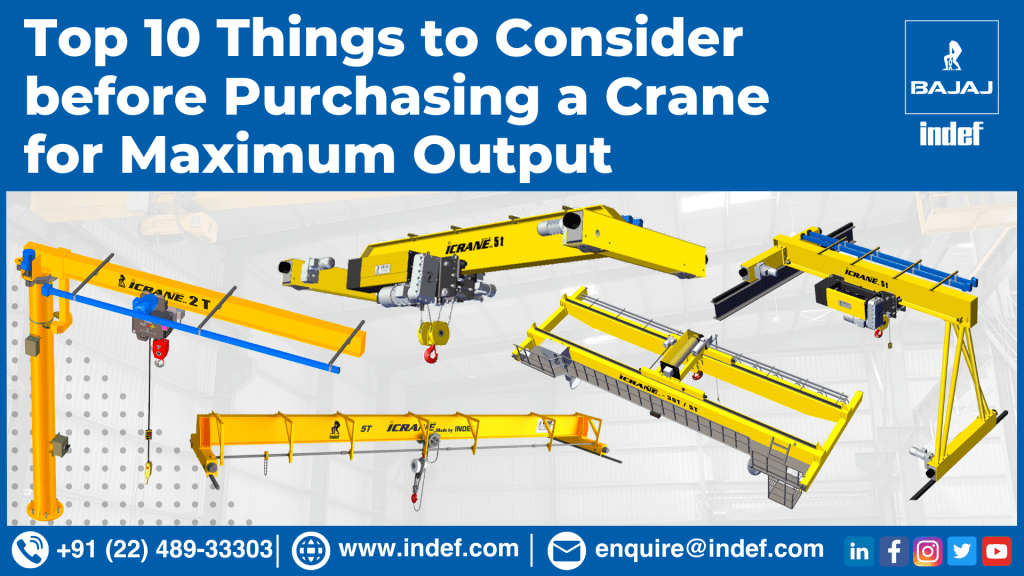 Checklist of the Top 10 Things Before Buying a Crane
As listed in the introduction, there is a list of things you need to understand to purchase a crane. These will help you improve overall productivity, ensure safety, and facilitate better reach. The below checklist will help you make a well-informed choice quickly and effectively.
1. Understanding the Primary Requirements
The first thing to know before purchasing a crane is to analyse your primary application requirements for the crane. Consider the factors like the day-to-day operation requirements, installation space available, infrastructure requirements, headroom, available manpower.
2. Your Work Environment
The working environment is another key factor that can affect the performance of the crane. Certain chemicals, for example, can accelerate metal corrosion; heat and moisture can overheat motors; and various other factors.
Additionally, depending on the indoor, outdoor, hazardous, or non-hazardous, the chosen crane should have special built as per environmental needs.
In the following trail, Bajaj Indef offer high-quality flameproof Cranes with a capacity ranging from 1 T to 70 Ton and a span of up to 35 meters. The flameproof EOT crane offered by Indef can be used for hazardous areas like Zone-I, II, 20, 21, gas group II A/B, and Temp. Class T3.
3. Lifting Capacity
Choosing the right capacity is very helpful for the extended performance and self-life of the crane. The capacity range generally varies from 1 Ton to more than 100 Tons[SB7] [US8] . The appropriate capacity of the crane can even reduce unwanted wear and tear. So always purchase the crane with right SWL (Safe Working Load) as per your application requirements.
4. Understand Your Span and Duty Class Requirements
Like capacity, the span and duty cycle also plays an important role in the selection of the right crane. Span helps operate the crane as per required runway. Duty class specifies the continuous operating load the crane can withstand at peak performance. The standard span ranges from 3 to 55 metres, and the variety of duty classes available are light, medium, heavy, and heavy-duty.
5. Brand to be Chosen
Once you have decided to buy a Crane and looking forward to the different Brand options. Look for the brand that will provide you with a Crane that is of best-in-class product quality coupled with installation and after sales service support.
Even the brand should provide you with the provision to upgrade to a new structure without undergoing major changes and should have the customisation capability to offer a specific solution as per your needs.
6. Price of Crane
The price of a crane varies depending on the type, span, maximum lift capacity of the crane. However, do not compromise on quality over price. Cranes are one-time investments for more than a decade, hence lifetime cost of the product should be the deciding factor rather than the purchase price.
So far, you've read about the lift capacity, span, duty cycle, and environment to look for before you buy a crane. Moving ahead, here are some terms on safety, warranty, services, and more.
7. Safety Features
Safety concerns are more apparent as the crane is an overhead material handling equipment. However, prior knowledge will help you handle as well as avoid such situations effectively. Depending on the usage and working environment, check for the smart safety features can be added to enhance the safety and productivity of the crane.
For example, the cranes can be equipped with a jacking pad, sweeper plate, and derailment guard as standard elements to extend the safety factor.
8. Warranty
Cranes and hoists are one-time investments for long-term usage. Thus, it is essential to review the warranty offered for the product and key factors like:
The duration of the warranty
Services, labour, shipping, and spares cost
Availability of local service team
9. Technology
Check for the design tools and manufacturing technology being used for building the crane as precision and efficient operation becomes a key factor for attaining maximum output. Intelligent technology comes with smart features that act as an aid to enhance overall productivity. Smart here in cranes means the combination of safety and ease of working together. Your cranes can have options like:
Load limiting device
Anti-collision detectors
Smart sensors for automatic switching and controlling
10. Service and Other Offerings
The purchase of the crane does not end with the purchase only. It comes with crane installation, warranty duration, servicing possibilities, spares availability during as well as after the warranty period.
Additionally, there are things like training the operators, regular crane inspections, and modifications to the components to ensure safe and efficient operation.
We hope the above-listed things will assist you in locating the best crane for your needs. If you need more information on the different types of cranes and hoists available, you can visit the website at www.indef.com or even write us at enquire@indef.com. We at Bajaj Indef pledge to offer the best of all hoisting and material handling solutions.
---