Electric Chain Hoist
Experience the future of lifting with advanced electric chain hoists that revolutionize heavy load management. Ingeniously engineered, these hoists combine power and efficiency for seamless lifting in various settings, from factories to construction sites. Operating as a rotary apparatus, the hoist envelops an alloy steel link chain around a wheel, smoothly lifting and lowering objects. Powered by an electric motor, the chain's rotation initiates lifting. Discover unparalleled lifting with our electric chain hoists, redefining versatility and reliability across industries.
Meet Our Stellar Lineup: Electric Chain Hoist Models
EH II Hoist (BABY): Perfect for light and medium-duty tasks, this plug-and-play wonder features a conical rotor motor brake, ensuring smooth operation with minimal maintenance. With up to 2T lifting capacity, and Atex certified flameproof variants, it's a true performer.
HC+ Hoist: Engineered for medium-duty excellence, the HC+ electric hoist stands strong during moderate operation times and is India's best-selling electric chain hoist. Reliable and robust, it lifts up to 5T effortlessly.
CH III Hoist (ELECTRON): The ultimate workhorse designed for heavy, medium, and light-duty tasks. Its cylindrical rotor motor with built-in brake guarantees low maintenance. With a capacity from 2.5T to 10T and a lift height of up to 100 meters, it's ideal for demanding lifting challenges.
CH IV Hoist (PROTON): For heavy-duty lifting, the CH IV excels. Lifting from 5T to 30T with a height of 100 meters, it boasts micro-limit switches for enhanced safety. Elevate your heavy-duty operations with the unmatched power of the CH IV chain hoist.
Products Offerings
Usage
Optimal choice for scenarios where labour lacks specialized skills and minimal supervision suffices for material movement

Suitable for both safe and hazardous area applications, these hoists find a natural fit along production lines, ensuring seamless product transfers and playing a vital role in maintenance operations

Widely used in diverse industries including Metals, Engineering, Infrastructure, Mining, and more

Electric chain hoists take the lead over chain pulley blocks, boasting superior lifting capabilities and travel speeds, a distinct advantage, especially during periods of heightened production demands

When space constraints or the need for a swifter, more manoeuvrable hoisting solution arises, electric chain hoists outperform wire rope hoists, offering unmatched efficiency and mobility tailored to customer needs
Benefits
Indef electric chain hoist portfolio offers a wide lifting range, from 0.25T to 30T capacities, conforming to global standards like FEM/ISO

Variants suitable for light, medium, and heavy-duty tasks, featuring efficient configurations like low, high, and dual speeds

Moreover, the versatility of these electric hoists extends to customization options, accommodating specific requirements such as short headroom and flame-proof variants

Advancing performance, these dual-speed electric chain hoists are enriched with HID technology, bolstering efficiency

The commitment to safety is evident through the incorporation of fail-safe AC brakes, overload limiting devices, safety hook latches, limit switches, and trolleys furnished with anti-fall provisions

The electric chain hoist proves invaluable for effortlessly moving, lifting, and delivering loads with precision between specified locations and at predetermined speeds

Unlocking possibilities, our electric chain hoists can also seamlessly transition into automated operations, adding a layer of adaptability to meet evolving industry demands
How to pick the best hoist
for you!
Analyse Usage Pattern:
Industry specific application, specifically operation driven | Based on duty duration; no. of hours of hoisting and travel per day | Average weight of the load per shift and percentage of capacity to be lifted per cycle
Access Duty Class:
Design Duty Class requirement as per Indian and International standards | Clear shade structure height and clear lifting height requirement below the hook | Available side clearances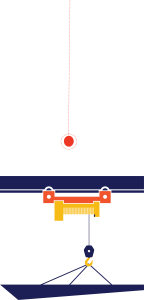 Monorail Path
Whether operation in on monorail path or on crane (size of beam/girder) | Hoisting and cross travel speed
Power Supply
Safety features and control system requirements| Type of power feeding system for the hoist | Special paint, power supply and control voltage requirements | Alarm, hooter, indicator lamp requirements for emergencies and operator safety
Temperature
Ambient conditions at the site | Automation requirement for the production
Capacity:
Check The Lifting Capacity Requirement
Enquire Now