The Electric Chain Hoist is a rotary machine where a alloy steel link load chain is wound on a pocketed chain wheel in a single layer and guided by a roller and chain guide to lift and lower heavy things.
An electric motor is used to pull the chain that spins around the wheel and begins the lifting process for the object attached with the help of a lower load hook.
These machines are easy-to-use and have a wide range of application in the engineering industry.
They find use across factories and in the manufacturing process, in construction sites, warehouses where the movement monorails are straight or curved.
Products Offerings
Usage
When site infrastructure is well developed and electric supply connections and traveling path is properly defined

To move, lift and deliver loads between specified location and defined speeds.

Where labour is unskilled and there is minimal supervision required for movement of material.

Suitable for safe or hazardous area application

Commonly used in industries like Metals and Metal Processing, Engineering (Light & Heavy), Infrastructure, Mining, Govt. Depts., EPC/Projects, Food, Pharmaceuticals, Defence, Cement, Petrochemicals, Power (All Types), Auto & Auto Ancillary, OEM, Material Handling, Agro

Can be used along a production line to move products across the line and even in maintenance.

Electric Chain Hoists are better than CPBs in terms of lift and travel speed, and especially helpful when production demand is higher

Electric Chain Hoists are better than WRHs when space is constrained or if the customers need a faster, more mobile hoist for their work.

Chain hoists can also be automated.
Benefits
Indef offers ECHs with a capacity ranging 0.25T to 30T

Designed in line with Indian and International standards like FEM/ISO

Indef offers different ECHs for Light, Medium and Heavy duty application

These compact hoists are available with low speed, high speed and dual speed configurations

Can be customised for short head room as well and various other requirements.

The hoists come with dimensions that exceed industry standards and are equipped with load chain made by leading manufacturers

The dual speed hoists are equipped with HID technology for added safety and with the Indef iQue technology that is Industry 4.0 platform compliant

Our flame-proof ECHs are suitable for hazardous area application with gas group IIA/IIB

The hoists come with safety features like fail safe AC brakes, overload limiting device, safety hook latches, limit switches and trolleys with anti-fall arrangement
How to pick the best hoist
for you!
Analyse Usage Pattern:
Industry specific application, specifically operation driven | Based on duty duration; no. of hours of hoisting and travel per day | Average weight of the load per shift and percentage of capacity to be lifted per cycle
Access Duty Class:
Design Duty Class requirement as per Indian and International standards | Clear shade structure height and clear lifting height requirement below the hook | Available side clearances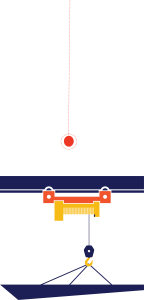 Monorail Path
Whether operation in on monorail path or on crane (size of beam/girder) | Hoisting and cross travel speed
Power Supply
Safety features and control system requirements| Type of power feeding system for the hoist | Special paint, power supply and control voltage requirements | Alarm, hooter, indicator lamp requirements for emergencies and operator safety
Temperature
Ambient conditions at the site | Automation requirement for the production
Capacity:
Check The Lifting Capacity Requirement
Enquire Now