The use of load handling equipment greatly simplifies industrial procedures. We can easily carry and move big objects thanks to the tools. The best thing about these devices is that they promote safety by limiting the need for excessive human engagement. These instruments not only increase safety but also make the procedure faster, saving a lot of time. Only when used properly can every tool function at its peak. Gantry crane manufacturers in India advise that, to get better results, gantry cranes must be handled properly just like any other load-handling equipment.
What is an Overhead Gantry Crane?
Also known as a Goliath Crane, a gantry crane is an overhead crane that is mounted on top of a structure that extends over an object or workspace. Since the structure is called a gantry, the crane is named Gantry Crane.
The size of a gantry crane can range from a tiny shop crane, which is used to lift and move objects such as automobile engines, to "full" gantry cranes that can lift extremely heavy loads.
We'll go over all points you need to know about one of the most useful pieces of equipment ever made in this article.
The uses of Gantry Crane include a wide variety of applications and they are used in a variety of industries. Make sure to read all the way to the end if you believe a gantry crane would be beneficial for your venture or company.
Types of Gantry Cranes
Depending upon the application, gantry cranes are classified into several different categories.
Adjustable Gantry Cranes : This type of gantry crane is extremely useful when moving loads of varying weights and sizes.
Single Girder Gantry Crane : A single girder gantry crane consists of a hoist trolley that moves along the lower part of the crane and one bridge beam. Single girder gantry cranes are ideal for lifting and moving light to medium loads.
INDEF's Single Girder Gantry Cranes have an SWL of up to 12.5T and span up to 30m.
Double Girder Gantry Crane : A double girder gantry crane consists of two girder beams that make the bridge. Double girder gantry cranes are particularly effective for outdoor operation in storage yards and loading areas
INDEF'S Double Girder Gantry Cranes have an SWL of up to 70T, and spans of up to 30m
Single Girder Semi-Gantry Crane : Single Girder Semi-gantry cranes are a cost-effective alternative wherever the installation of bridge cranes is impractical due to a need for a raised runway structure
INDEF'S Single Girder Semi Gantry Cranes have an SWL of up to 12.5T, and spans of up to 18m
Double Girder Semi-Gantry Crane : The Double Girder Semi Gantry Crane is mostly used to move and lift objects outdoors. Under the main girder, the A-type supporting legs run on the ground track.
Double Girder Semi-gantry cranes are a cost-effective alternative wherever the installation of bridge cranes is impractical due to a need for a raised runway structure
INDEF'S Double Girder Semi Gantry Cranes have an SWL of up to 70T, and spans of up to 30m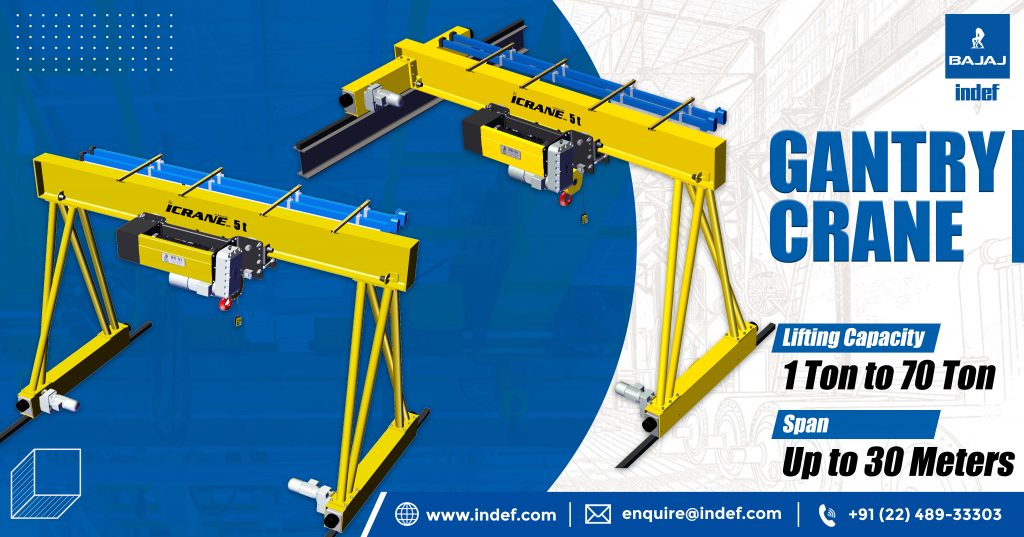 Please contact on +91 (22) 489-33303 or write to us at enquire@indef.com if you have any material handling needs. "Redefining Material Handling since 1962". For more details about us, please visit www.indef.com