Electric Wire Rope Hoist – Everything You Need to Know
> What is a Hoist?
A hoist is an overhead lifting device that uses pulleys/ cables/ chains to move objects. They are usually used in manufacturing plants as they can lift heavy loads safely without much effort required by workers. Different features of hoists include speed control, numerous lifting speeds, and safety measures like limit switches or load brakes. Hoists work by transferring the load from the hook to the traveling beam. The power unit, usually located at one end of the beam, provides the lifting or lowering motion. The operator stands on a platform near the other end of the beam and controls its movement.
​​There are many different types of hoists, each with its unique features and applications. One such being Wire Rope Hoists.
> What are Electric Wire Rope Hoists?
Electric Wire Rope Hoists are rotating devices that raise and lower large objects using a wire rope. The rope, which is wound on a grooved drum in a single layer, is guided by a ring over the drum. On pulling the wire rope, it spins around the drum and the object is lifted with the help of a lower load hook.
These wire rope hoists may be useful and helpful where it is risky for a human to stand. The electric rope hoist usually can lift weights from 0.5T to 100 Tons with ease.
The versatile options available with the INDEF Wire Rope Hoist give more reliability, and henceforth we have emerged as one of the most trusted suppliers of electric wire rope hoists. Indef is the pioneer in offering customized solutions when it comes to wire rope hoists; we offer the maximum lifting capacity up to 90 Tons and height of lift upto 170 meters that is highest in Indian market.
CHECK OUT! Follow this link to see the WRH offerings from Indef: Electric Wire Rope Hoist Manufacturer in India | Indef.com
This equipment is employed in several manufacturing facilities. When driven by electricity, these hoists resemble traditional standard electric hoists. The traditional electric hoists lift loads of various weights using steel chains. But because wire ropes have greater SWLs (safe working loads), they are frequently better suited for heavy lifting than conventional chain hoists, hence they are gaining popularity in the industrial sector right now.
> Using Electric Wire Rope Hoists
This easy-to-use hoist which can be used on EOT cranes as well as monorails finds use across multiple industries. They are Commonly used within environments where heavy duty lifting occurs, such as heavy foundries, factories and manufacturing plants of industries like Metals and Metal Processing, Engineering (Light & Heavy), Infrastructure, Mining, EPC/Projects, Food, Pharmaceuticals, Defense, Cement, Petrochemicals, Power (All Types), Auto & Auto Ancillary, OEM, Material Handling, Agro.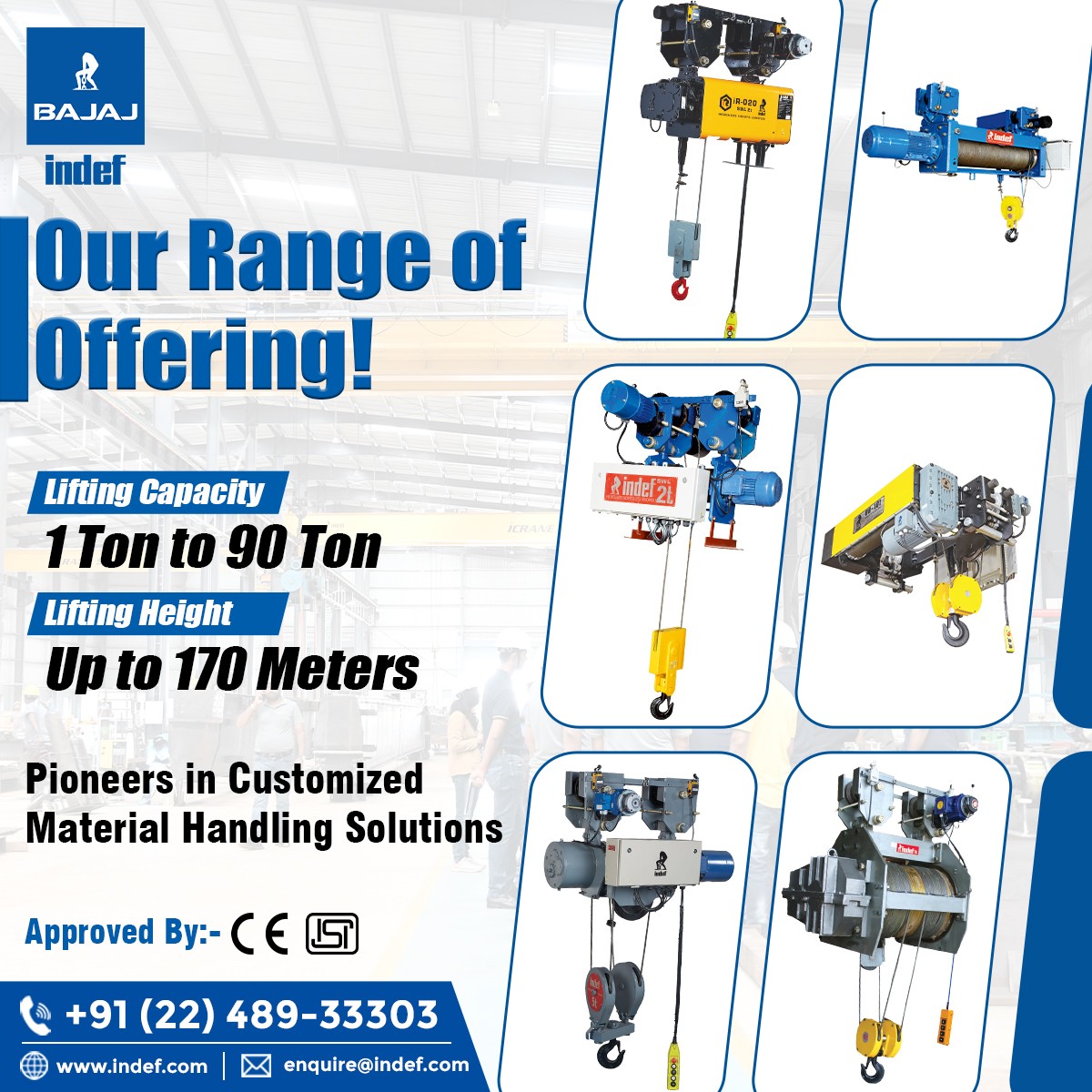 Electric Wire Rope Hoists are used:
To move, lift and deliver loads within predetermined locations, at predetermined speeds.
When the site infrastructure is developed well, electrical supply connections are established, and the travel route is clearly defined.
If the lifting device is expected to sustain heavy impact and thrust load.
For accurate and important operation.
INDEF's Electric Wire Rope Hoists are good for heavy use, built to last long and require minimum maintenance; at the same time, they can support a wide capacity range and multiple applications.
> The benefits of using this equipment:
Wire rope hoists have a wide range of benefits, which often makes them the preferred lifting medium when compared to other hoists. Few of these advantages are:
Wire Rope Hoists are better than Chain Pulley Blocks in terms of lift and travel speed, and especially helpful when production demand is higher.
Wire Rope Hoists are able to sustain heavy impact and thrust load as compared to the Chain Electric Hoist.
Its versatility with heavy-duty lifting – Since wire rope is manufactured using multiple wires, i.e.: the weight of a load is divided across many distinct strong metal pieces, Wire rope hoists can lift significantly larger weights than other hoists. Some rope hoist systems can lift an astounding 90T, while chain hoists can only carry up to about 30T. Due to this, they are significantly more suited for professions that frequently involve heavy lifting.
Safety – Safety is a huge benefit of this equipment. Since there are many wires and strands, it implies that if one breaks, other strands will still be intact to hold the load while it is safely lowered.
Its high resistance – The lifting medium is quite resistant to rust, corrosion, and abrasion; hence it is unlikely to degrade. There is also the option to get galvanized rope, which increases its resistance to these damaging factors.
There is something for everyone's lifting and lowering needs because of the variety of solutions accessible. Today, there are many different rope hoist systems available.
> Features of INDEF WRH
-Designed in line with Indian and International standards like FEM/ISO.
-Offered for Light, Medium and Heavy-duty application.
-The WRH is offered for all configurations – monorail, box girder for EOT cranes and foot mounted.
-Available with low speed, high speed and dual speed configurations
-Can be customized for short head room as well and various other requirements.
-Equipped with standard components like compacted wire ropes, motors, brakes and other electrical components.
-The dual speed hoists are equipped with HID technology for added safety and with the Indef iQue technology that is Industry 4.0 platform compliant.
-Our flame-proof WRHs are suitable for hazardous area application with gas group IIA/IIB/IIC and for zone 21/22.
-The hoists come with safety features like fail safe AC/DC brakes, thruster brakes, overload limiting device, safety hook latches, tightly wrapped spring-loaded rope guide ring, trolley and anti-fall arrangement.
Please contact on +91 (22) 489-33303 or write to us at enquire@indef.com if you have any material handling needs.
Leading Hoist Manufacturers in India "Redefining Material Handling since 1962". For more details about us, please visit www.indef.com
---